The Pension Protection Fund (PPF) has launched a new Trustmark initiative which will provide its panel firms with a badge that recognises their expertise and high level of service supporting occupational pension schemes in relation to the PPF's assessment process.
Open Trustees is currently one of the PPF's 29 panel firms across six specialist panels. All these firms will now be able to use a badge which recognises their specialist knowledge, collaborative working with the PPF, and commitment to delivering the high standards of service set by the PPF.
Open Trustees is on the PPF's Trustee and Support Services Panel which aims to improve the member and trustee experiences when the sponsoring employer is in stress or distress, or their pension scheme enters a PPF assessment period. The panel encourages scheme trustees to recognise their knowledge gaps, and to appoint a panel trustee and/or restructuring and insolvency adviser to support them.
This includes advice in areas such as:
Assessing the impact of reorganisations and restructurings on a pension scheme and its employer covenant, including any mitigation that may be required to repair any detriment
'Moral hazard' risk review, to consider likelihood of TPR intervention
Supporting trustees in assessing proposals to compromise scheme benefits and separate the pension scheme from the sponsor
Providing expert advice and assistance in restructuring negotiations
Undertaking or reviewing insolvency contingency planning
Advising trustees post an insolvency event or post a restructuring plan implementation.
Open Trustees is also appointed to act as a trustee of occupational pension schemes which are likely to enter or have entered a PPF assessment period in order to take that scheme through its PPF assessment period as quickly and cost efficiently as possible.
Jonathan Hazlett, managing director, Open Trustees commented: "This is a welcome initiative from the PPF. The new Trustmark will signify the expertise and high standards of service provided by its panel firms and provide additional reassurance to members of schemes in PPF assessment. We are proud to display the Trustmark on our website and are looking forward to using it in our communications going forward."
Oliver Morley, CEO, said: "At the PPF, we are committed to providing a positive experience to members in schemes which come into our assessment process regardless of whether they transfer to us or not. Our panel firms perform a vital role taking schemes smoothly through our assessment process and securing the best available outcomes for members. The Trustmark badge recognises the high standard of service our panellists provide, and we hope will reassure members who see it that they are in safe hands."
The PPF has transferred over 1,090 schemes since it was set up in 2005, and currently looks after almost 300,000 members. Working in partnership with its panel firms, over time the PPF has greatly improved the efficiency of its assessment process. Before the PPF first opened its doors, it typically took around 10 years to wind up a scheme; a PPF assessment process, which bears many similarities to winding up a scheme, takes on average 18–24 months.
The design of the Trustmark badge which panel firms will be able to use can be seen below: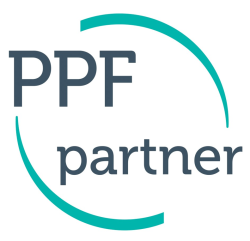 About the PPF
The Pension Protection Fund (PPF) is a public corporation, set up by the Pensions Act 2004, and has been protecting members of eligible defined benefit (DB) pension schemes across the UK since 2005. The PPF is run by an independent Board and accountable to Parliament through the Secretary of State for the Department for Work and Pensions. It protects close to 10 million members belonging to more than 5,100 pension schemes. If an employer collapses and its DB pension scheme cannot pay members what they were promised, the PPF pays compensation for their lost pensions. The PPF is funded by a levy charged to eligible schemes, the return on its investments, assets from pension schemes transferred into the PPF and recoveries from insolvent employers.
The PPF is one of the UK's largest asset owners with £32.5 billion of assets under management. It also administers the Fraud Compensation Fund (FCF), the Government's Financial Assistance Scheme (FAS) and across both the PPF and FAS looks after nearly 440,000 members.